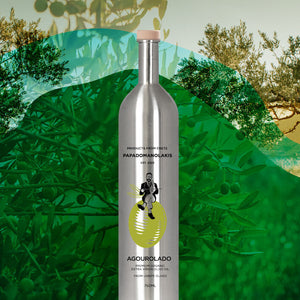 Pappas Market
2023 Harvest Agourolado High Phenolic Extra Virgin Olive Oil
Regular price
$66.95
$0.00
Unit price
per
RESERVE your bottles of 2023 harvest of Agourolado, high-phenolic extra virgin olive oil from Crete. Only 500 bottles will be produced. This is a PRE-ORDER that will reserve your bottles. All orders will be filled after the harvest this fall, and shipped to you no later than early December 2023.
***
About Agourolado
My very own single-source, high phenolic early harvest extra virgin olive oil from Crete, Greece. This unique olive oil will be produced from unripe olives of the "Tsounati" variety that will be harvested during fall 2023 from the farm of Giorgos Poulakas in Varipetro, outside Chania. 
Tsounati (or "tsounates" in the plural) are a rare cultivar, or variety of olives found exclusively in Western Crete. Most tsounati trees grow and thrive in higher altitudes. Oil from these trees is scarce and costly to produce, given the fact that these trees only bear fruit every other year.
Agourolado is certified high-phenolic by Food Allergens Laboratory in Rethymnon, Crete. A full report is available upon request.

Size: 750ml / 25.36 fl oz

Packaging: Made in Italy, 100% recyclable, single die-cut stainless steel bottle, made from the same stainless steel that olive oil vats are made from. Stainless steel has been proven to be the very best material to protect the product's organoleptic properties and prevent negative effects from light and oxidation that glass and other materials can cause.
Read more about high-phenolic extra virgin olive oil here.
---